(This is constantly being updated as I have time to add things I recommend)
Some of these resources contain affiliate links. Keep in mind that some of these companies may not share my morals or political views. I do not have Instagram so I often don't see some of the political agendas behind different products. Use your own judgment on which companies you wish to support – we all make our concessions on which companies we buy from.
See my Site Disclosure here about my affiliate relationships.
Candles:
Wellness by Ari – these are the most amazing bees wax candles I have found. The smell is great and the wicks are made of hemp and don't smoke or burn quickly. They are scented with essential oils.
Cleaning Products:
Earthley – Lot's of great products from Earthley. I love their bathroom scrub. They also say a spray concentrate. You don't pay for the water. You put a small amount in a jar of warm water, shake, and spray!
Mattresses & Bedding:
Naturepedic – If you have been in the crunchy world for a small amount of time you have probably heard of Naturepedic. I love their mattresses. We have the EOS Classic (which is completely customizable).
My Green Mattress – We have the all latex mattress from here for my daughter. She loves it and I can rest easy that she isn't sucking in toxins while sleeping. I have never purchased the adult mattresses from here. I have heard they can run soft but they do have a guarantee.
Wool Comforters (Frankenmuth Wool Mill) – This is where I get all my wool comforters. While their wool is not technically organic, they don't spray or add chemicals. They use an old fashioned way of processing. Their prices are also decent for comforters. I originally found them because they were one of the sources for a Coyuchi bedding comforter (but Coyuchi obviously marked it up and has better SEO). I bought it straight from the source. (I don't know if Coyuchi still sells it btw)
Kitchen:
Stasher Bags – We love using these instead of ziplocks. They are silicone bags. Now, although silicone is technically microwavable and oven safe, I would not. Every time I have used ANY silicone products in heat, they always have an odd smell – which tells me something isn't right.
Air Purifier:
Air Doctor – This is the air purifier we use at our house. I love how it TELLS YOU when to replace the filters based on a sensor not a timer. We just ordered a couple more for our home. I don't think I an legally link her link but if you search Air Doctor and Wellness Mama, she has an AMAZING affiliate link that gets you like 50% off. Or if you can wait until the holidays, they usually run discounts like that.
Earthley – Lot's of great products from Earthley. They have great herbal remedies and supplements. I personally love their magnesium lotion for a non-itchy topical form of magnesium
Seeking Health – Seeking Health carries a variety of supplements for all needs. I highly recommend them as they are high quality, and produced in the US. I also love Dr. Ben Lynch and his research and this is his supplement company
Ion Biome – Started by Dr. Zach Bush. This supplement helps support overall gut health. I can't recommend it enough. It used to be called Dirt Water but it is now called Ion Biome.
Just Thrive – I am not pro "broad spectrum" probiotics for the most part. However, Just Thrive is a slight exception. When we take probiotics, this is the only supplement we will take. It is a spore based probiotic so it is very different than others on the market.
Bioray – They have a GREAT line of herbal supplements for adults and kids. Their customer service is great as well. They have detox protocols on their site and really easy to understand products. You don't have to go guessing about what product you need.
Organic Olivia – I love her herbal remedies. They are truly amazing. We have several of her products including her cough syrup. It is one of my GO TO's when I am not feeling well!
Plant Therapy – Essential Oils. So I know there is going to be some debate on this. Not all of their oils are organic (but they do test them all). However, they do sell certified organic oils. They are not an MLM. They are more of a "woke" company if am honest. However, their essential oils ship quickly and they are affordable and high quality.
The Detox Market – I LOVE this company. They sell multiple different brands of clean makeup. So if you don't want to pay shipping at 10 different companies for 10 different items, this place is perfect for you! They also have a great sample program where you can get three samples of almost anything for $7 dollars. This was perfect when I was trying to find a foundation. NOW, I will say not all their products meet all my qualifications when picking my own safe beauty products (some of the products have food grade food coloring in them – but I don't allow food dyes in my food so I don't want in my lipstick either) but they are a great starting place if just getting into clean beauty and every product has listed ingredients. I order most of my makeup here.
Aleavia Body Wash – A great prebiotic body wash! I highly recommend. They are natural and gentle.
Prim and Pure. – Clean kid makeup! My daughters love to put on play makeup. It makes a mess but it is something fun they love to do (when they aren't going to be leaving the house of course). I have also heard good things about their nail polishes. The brand itself is also amazing! We ordered separate kits and pieces during Christmas time and they packaged them in separate boxes for each kid (I didn't even TELL THEM that they were for two different kids but they looked at the order and figured it out!). I can't speak highly enough of them and their customer service.
Earth Mama – This is my GO TO company for anything birth and post partum. They make amazing pregnancy and post partum teas, and creams, and sprays, etc. They also have great baby products that are super gentle and natural.
Hanna Andersson – This company also has questionable political views. HOWEVER, they produce amazing quality ORGANIC clothing, pajamas, and underwear. Their organic underwear is amazing for kids. We have their sleepers for our son, and they just last and last! My girls have their pajamas and again, they just LAST!
Apologia – I love this curriculum! We have their science and their Bible program. It is so well made, intriguing, and keeps all my children engaged. I love the companion student journals as well.
Home Master Hydro Perfection System– (Affiliate) This is the reverse osmosis system that I recommend. The cartridge system is really easy to replace. It has an oversized RO cartridge for hard water. It has a permeate pump to reduce water waste and a UV light. It also remineralizes the water before going back into the tank. The price is also much better than other systems on the market that do similar things.
Springwell House House Filter – This system will last about 10 years for our house and filters out most of the contaminates found in public utilities. If you have high lead, they have an alternate system you can buy.
Whole House Fluoride Filter – This filter lasts for 3 years but uses bone char to reduce fluoride in the whole house water. It reduces strain on your drinking water filtration as well.
Recommendation Blog Posts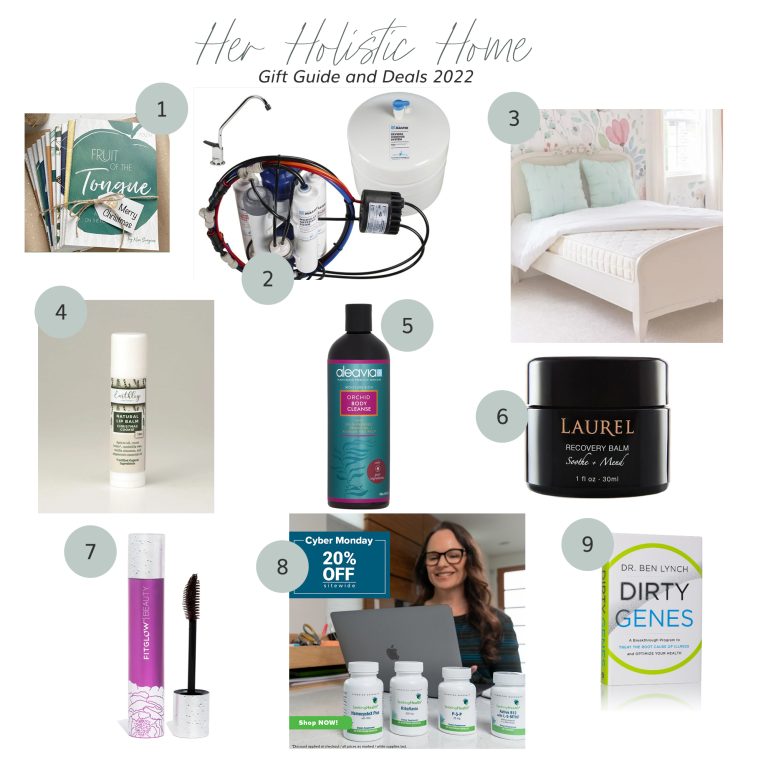 In lieu of my podcast episode I am bringing to you a small gift guide for Christmas. I will be honest in that I never wait for these deals! I always want my shopping done before Thanksgiving. Some of these…