When Noelle was born, many of you may remember the fairy themed nursery we put together. Although I loved that theme, it needed to change. She needed an upgraded "big girl" look. Not to mention, the walls were painted pink, and it just created a very dark room. One of the cutest features about that room, was the wings that were on the wall. I had made some cellophane fairy wings for my renaissance fair costume and they looked so gorgeous on the wall. However, Noelle recently started to get scared of them (I guess they might look pretty scary in a dark room). After, I removed them from the room, the fairy theme kind of died.
I love the woodland theme that we decided to go with this time. I feel like it is slightly bohemian as well which I love. I really designed the room around the bedding that I already had. It is bedding from Land of Nod called Well Nested. I love it because it is feminine and it is organic cotton! When it comes to sleeping, I really try to get the cleanest fabrics and materials possible. This is the time your body regenerates right?? The best thing is that Land of Nod has MATCHING crib bedding for this collection (so Juliet will have a matching room). I am sure my girls won't want matching rooms forever, but for now, I get to choose! haha!
Check out below for links to all or most of the products in the room!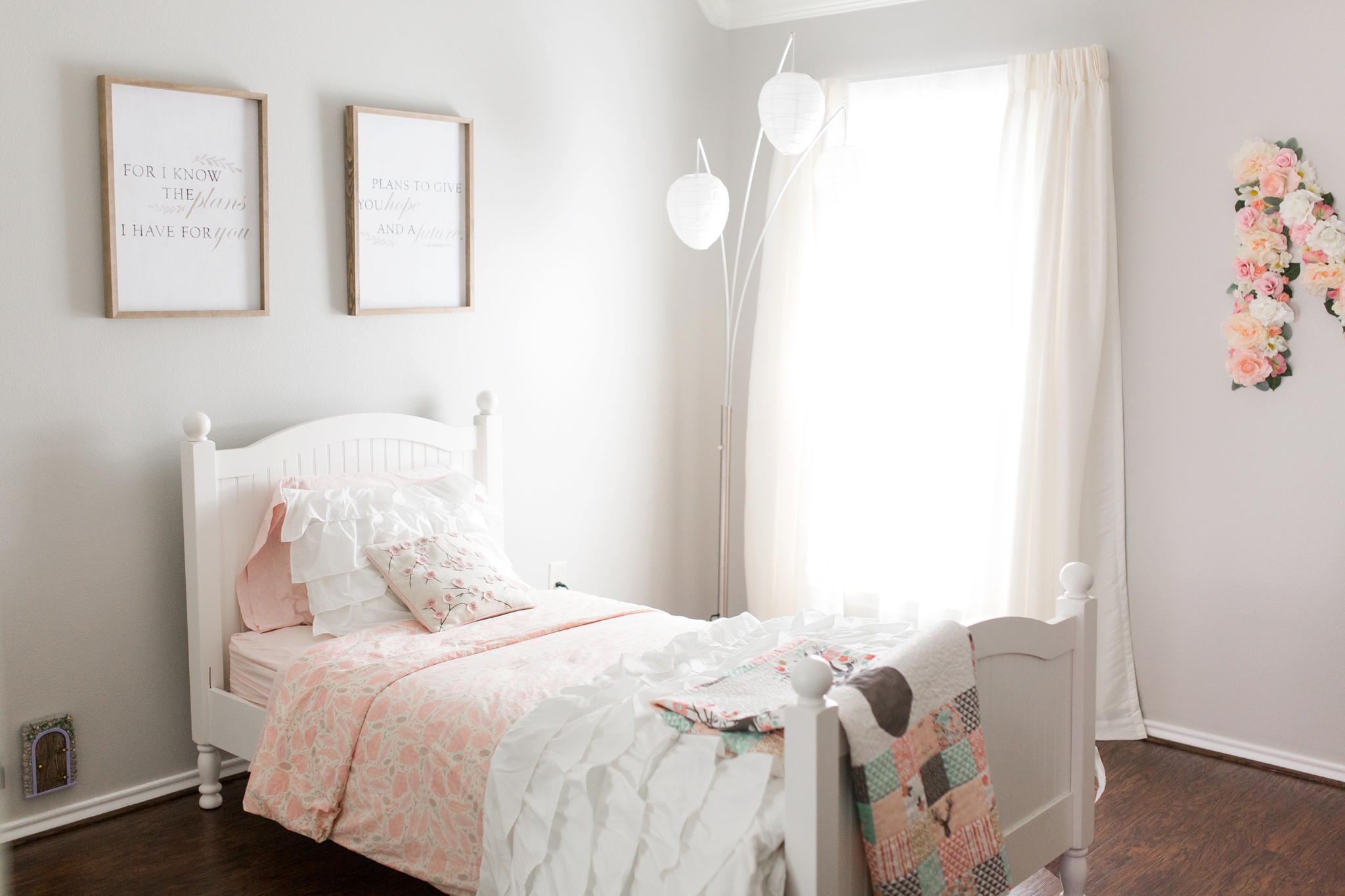 This quilt was made by my mom and I absolutely love it! Juliet has a matching one which I will be sharing in her nursery post later this month.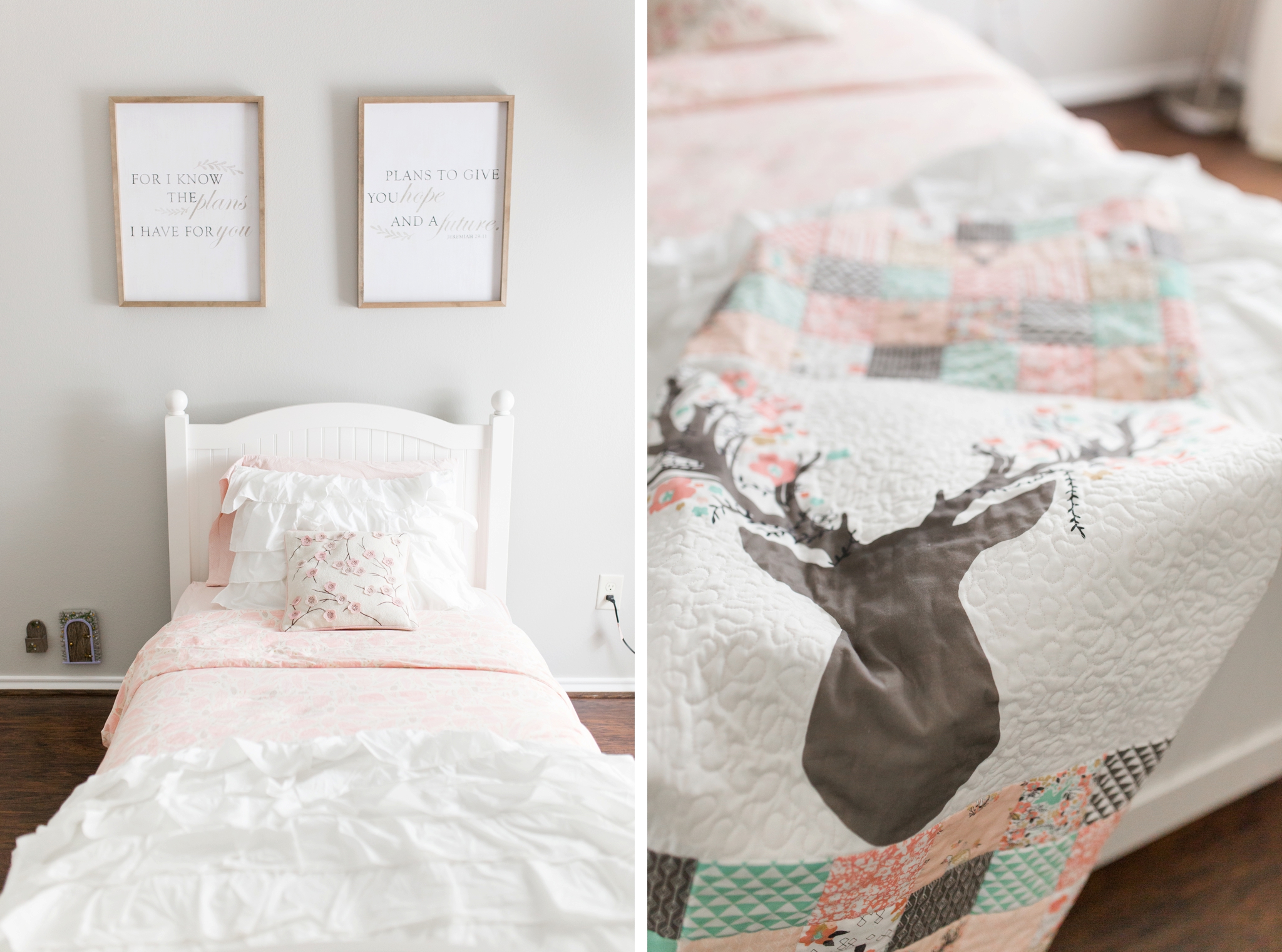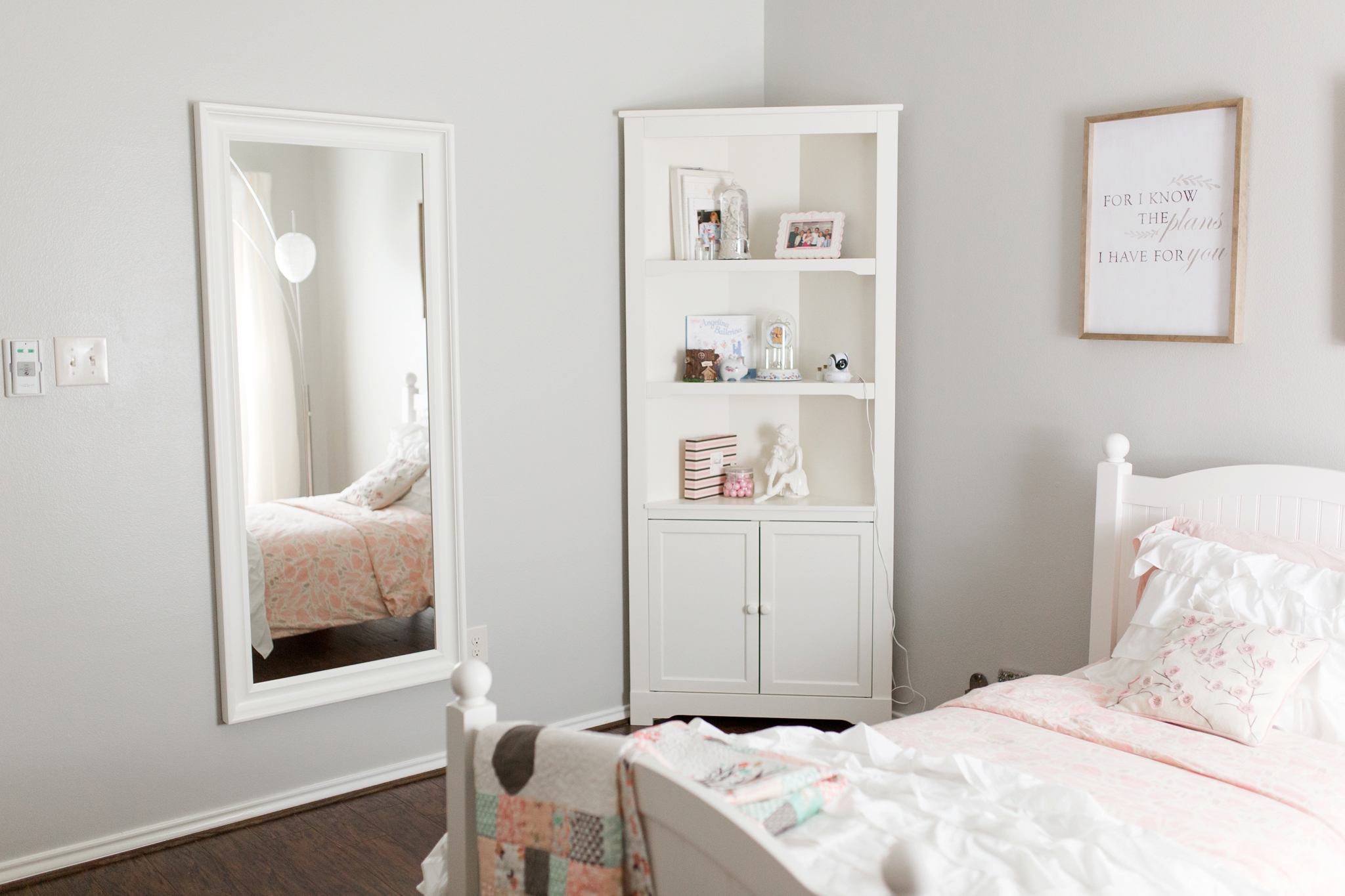 This art piece is by a famous artist …. also known as my toddler LOL! I decided that since I wanted an abstract piece in the room, I might as well let her have some fun! I directed her just slightly, but I think it turned out beautifully.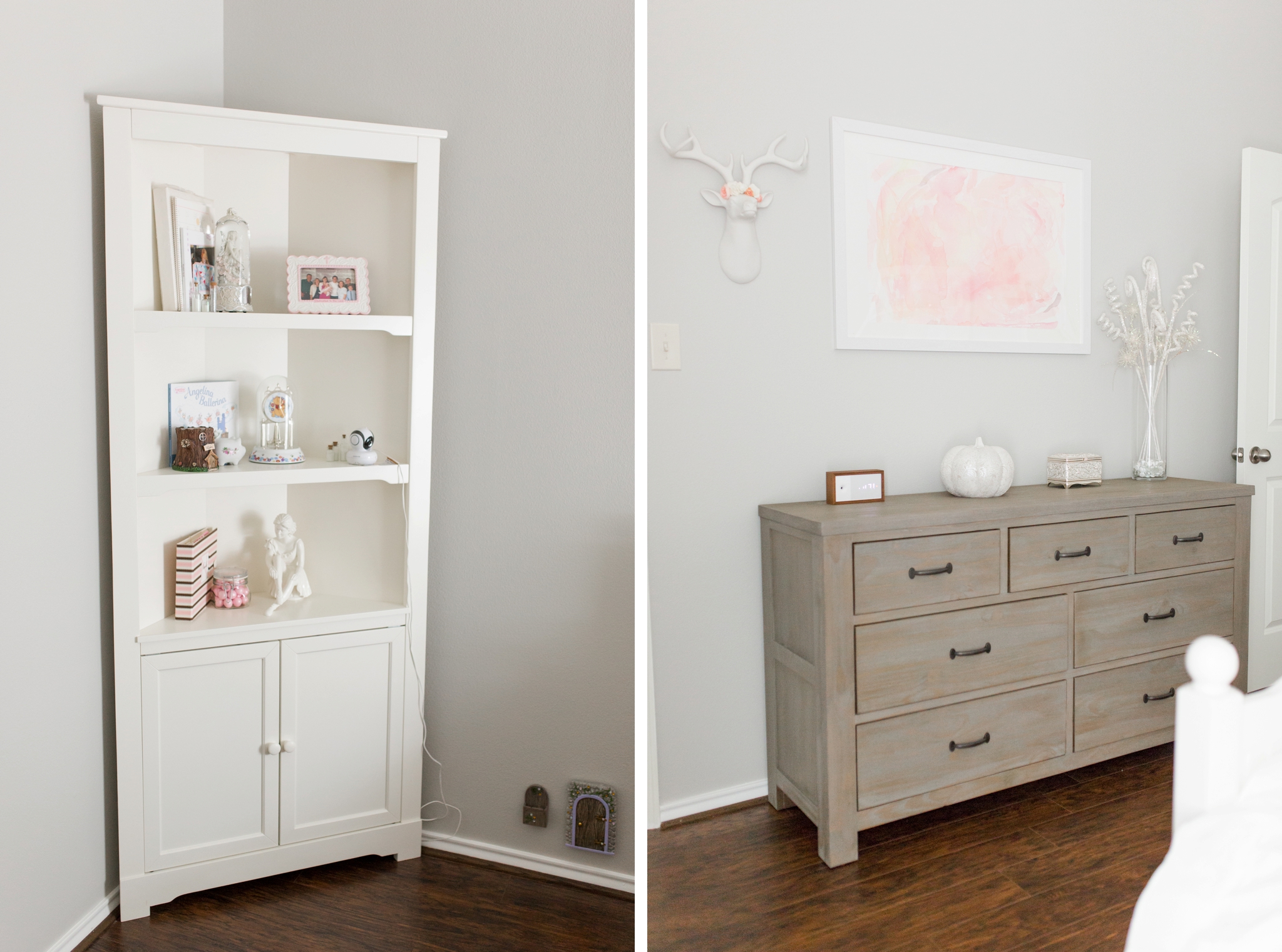 This fairy door was something we added when her room was still fairy themed, but I felt like it went with the room and was so cute. I couldn't remove it!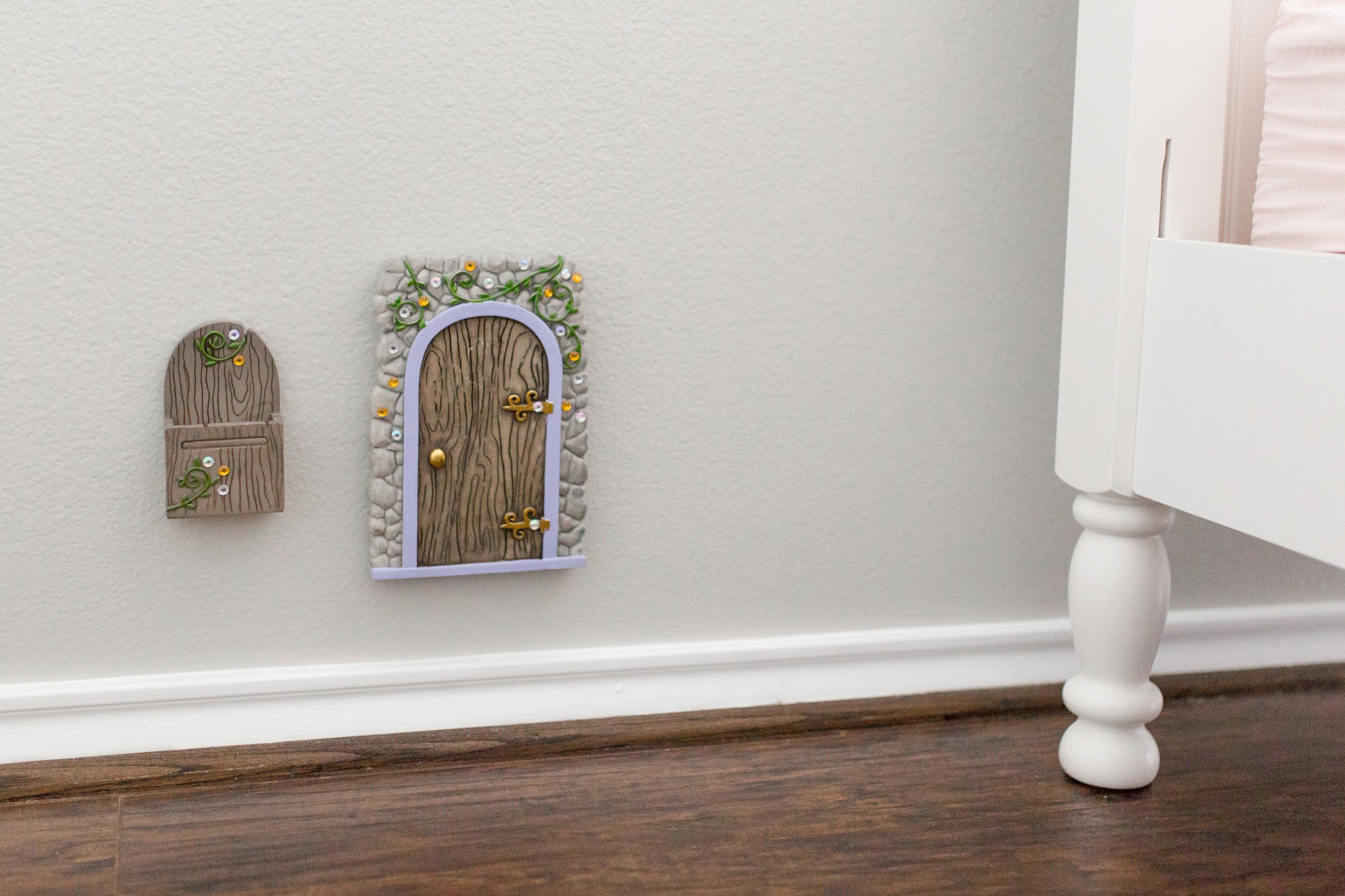 That thing on her dresser? That is her Awair. It shows the air quality in the room. It looks horribly low right now but that was just because the room was JUST cleaned (so all the dust was floating in the air!) haha! We also use a room air purifier usually just as an extra precaution.
Also, I need to say something about this dresser. I absolutely love this piece. Noelle used to have the Catalina dresser that went with her crib, however, since that dresser has a changing table adaptor, it is now in Juliet's room. I am so glad we upgraded Noelle's dresser to this one from Furniture in the Raw. It has more space, and it is solid wood! It also cost almost half of what the Pottery Barn Catalina dresser costs and did I mention? It is SOLID WOOD! That means no MDF, no plywood… and no formaldehyde off-gassing! Overall, I couldn't be happier with this brand and I foresee myself buying much more from this company in the future (see link at the bottom of the post)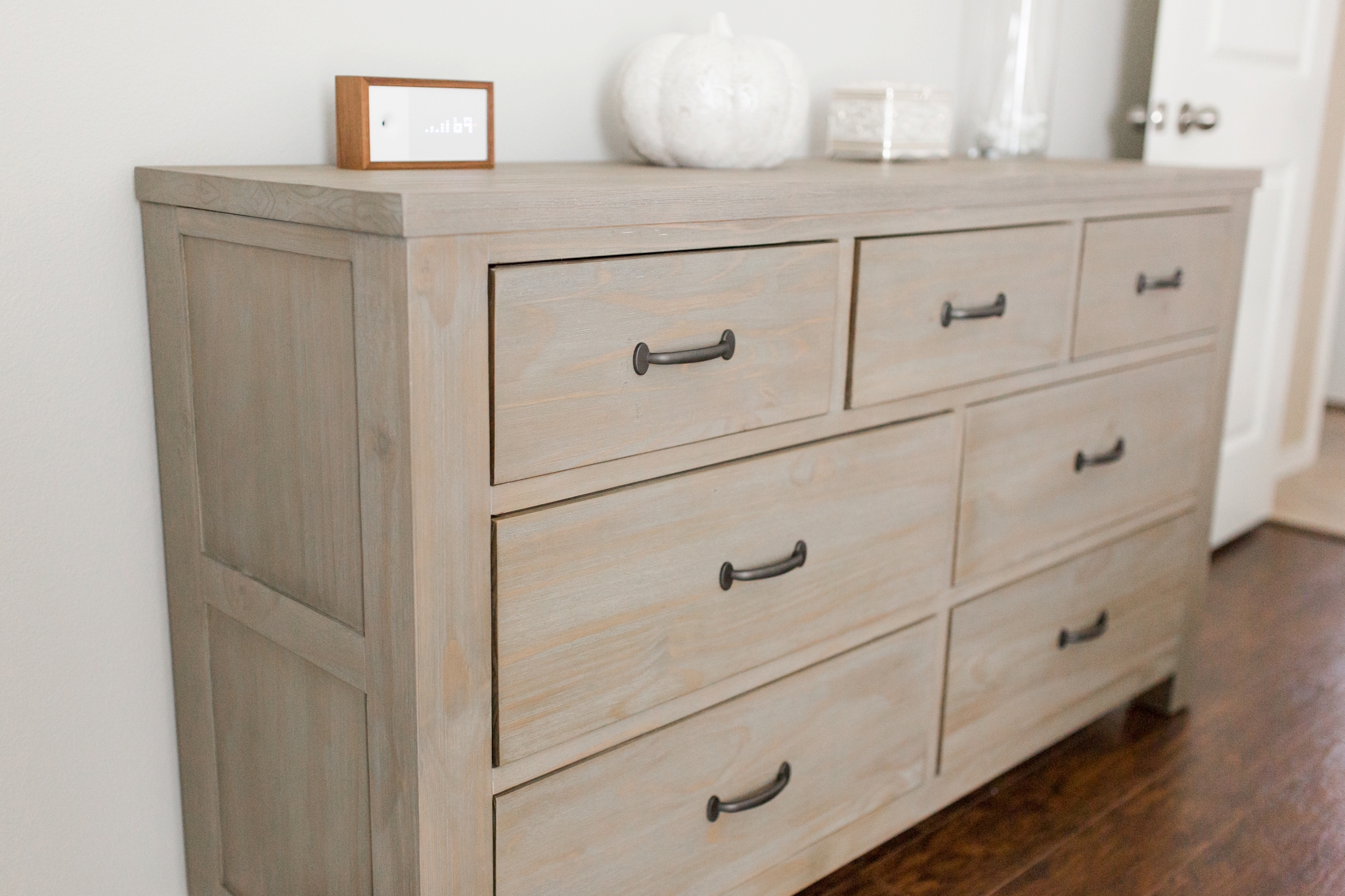 I linked this stag head below, but to be fair, I did add my own spin on it. I hot-glued flowers to the head to give it a more custom feminine touch. I love how it turned out. You can also customize it yourself based on whatever colors work for your room!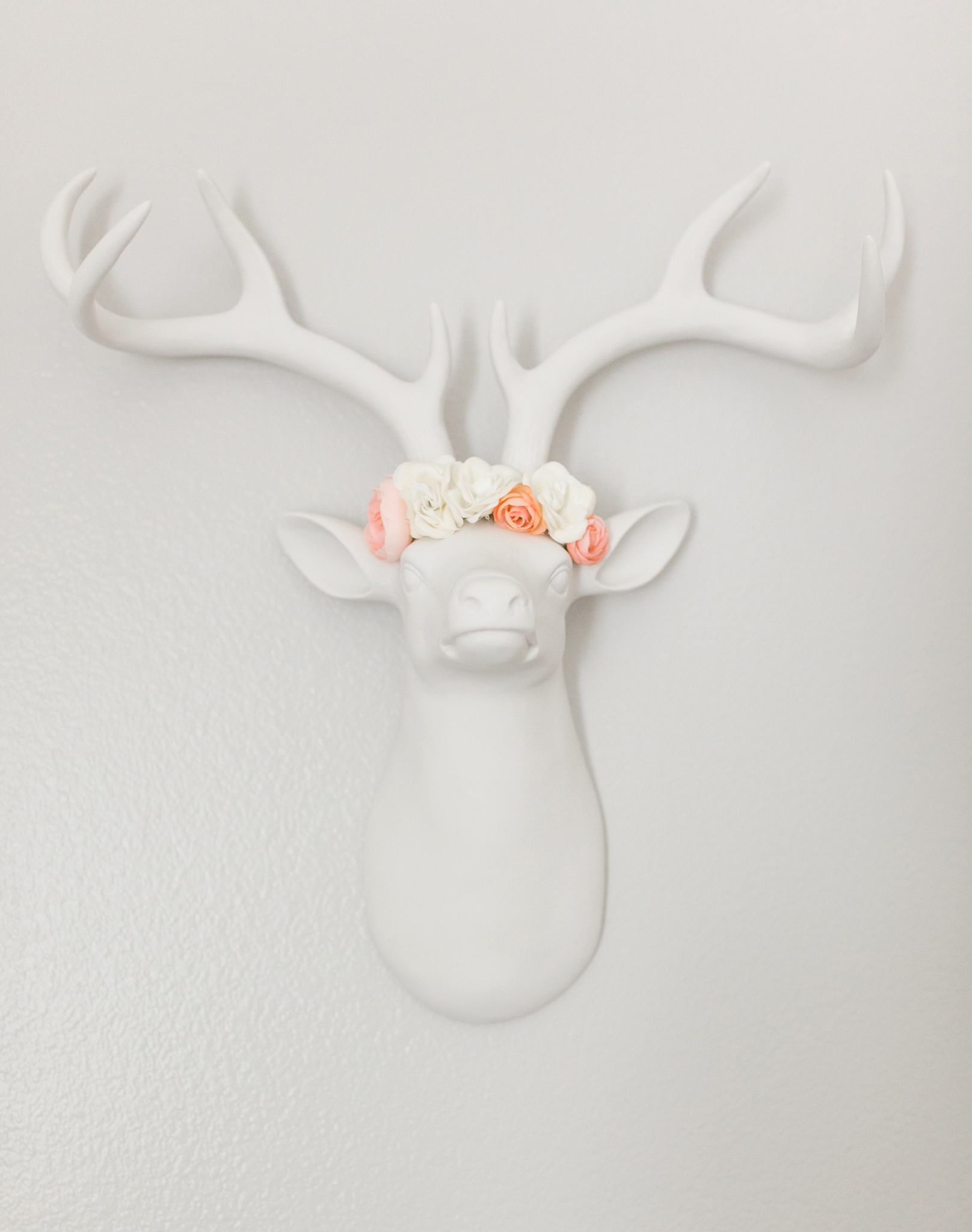 The flower letter I created custom for both of my girls. You can see more here. This is seriously one of my favorite items in the room!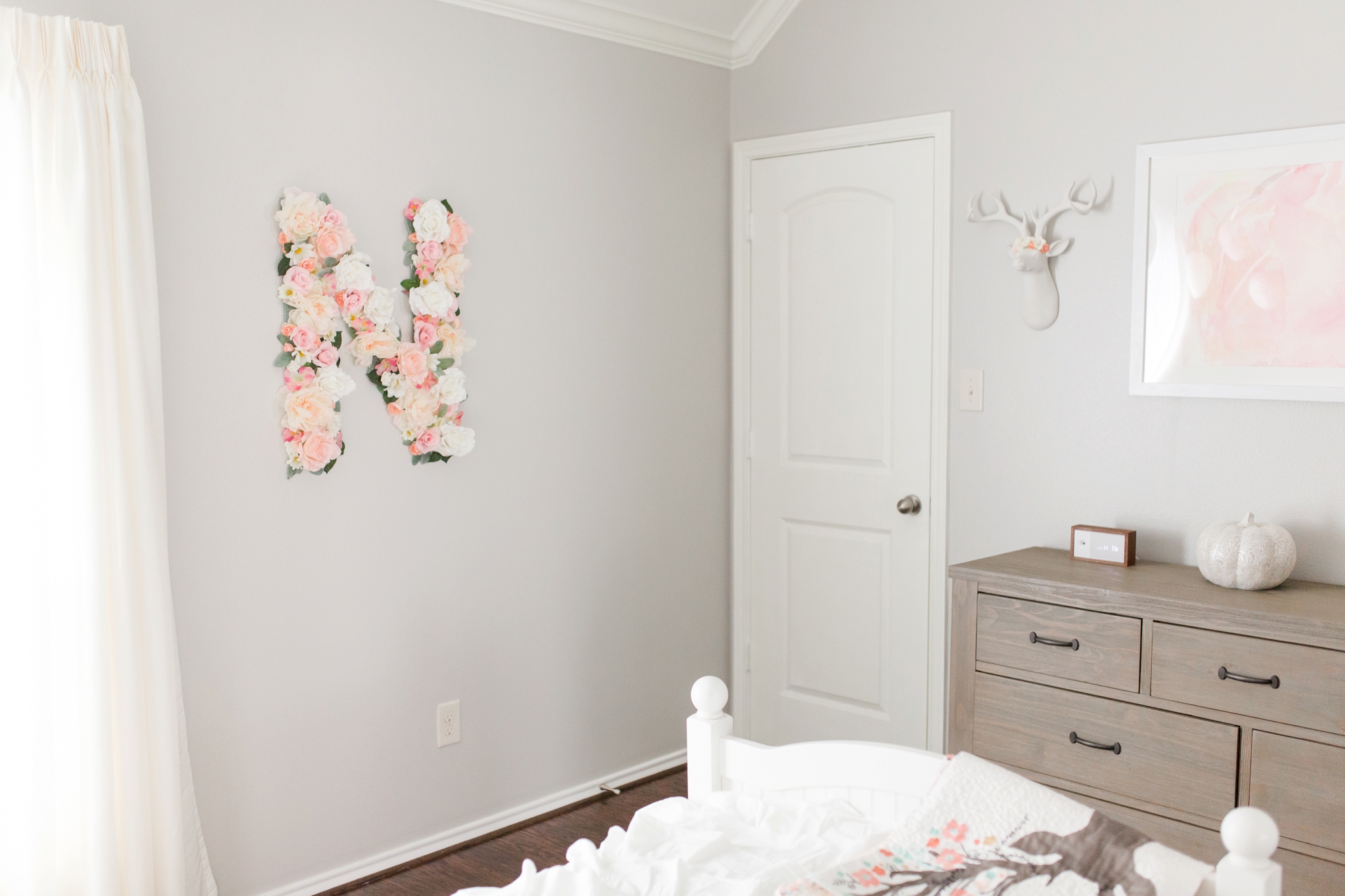 I hope you enjoyed checking out my daughter's room. I am absolutely in love with it and so glad we made the change. Check out all the links below if you want to know where we got something etc.
Sources:
Wall Color – Repose Gray by Sherwin Williams
Above bed signs – Hobby Lobby
Lamp – Amazon
Draperies – Bed, Bath, and Beyond (I bought these for her original nursery so I don't know the exact ones)
Pink Duvet – Well Nested Bedding by Land of Nod
Comforter (inside the duvet) is by Coyuchi
Sheets – Well Nested Bedding by Land of Nod
White Ruffle Comforter (sadly they don't make this anymore!) – Pottery Barn Teen
Bed – Pottery Barn Kids Catalina Bed
Mattress – Organic Naturepedic Mattress
Quilt – Made by my mom!
Fairy Door – Barnes and Noble
Bookcase – from Pottery Barn Kids (They don't make it anymore)
Solid Wood Dresser – Furniture in the Raw
Stag – Target
Mirror – IKEA