I am often asked what natural products I use for myself, my kids, and my home. I figured I would answer some of these questions with some blog posts. I have used a lot of different products over the years (some better than others). While I can't commit to saying I will be using these products forever, I currently am really liking them!
Some of the products I am going to recommend I don't use anymore. That isn't because I didn't like them or because they are subpar in any way (definitely not). It's just because I wanted to try something different.
Ok first up, shampoo. The first shampoo and soap combination I ever used for my babies was the Earth Mama Angel Baby Soap.
I absolutely love this product because I can trust it. I pretty much love everything Earth Mama Angel Baby ever made. I obviously don't have a current photo of the product because we aren't using it anymore. The only reason we aren't using it is because as my daughter grew up, we wanted something a little easier to work into her hair. I would recommended this product for babies! It comes in a foaming dispenser, so it is easy to get onto the baby's head. It is also a soap as well as a shampoo (so two for one.. yay!). They actually have more scents now as well, in addition to unscented! You can check out their website here.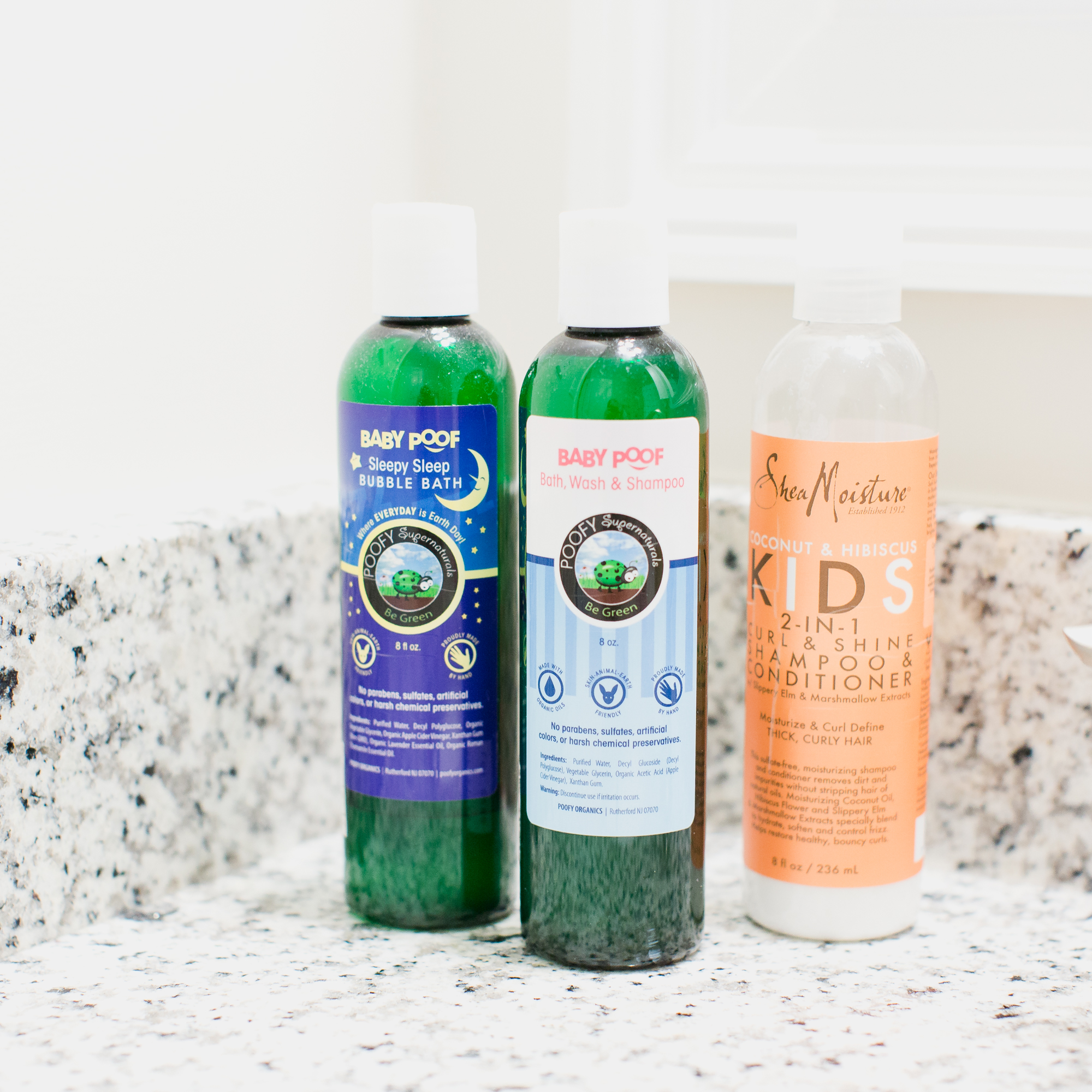 We switched to Poofy Baby when she got a little older. It was easier to massage into her hair and I didn't have to use as much. This product is super safe. It comes in the typical gel format (like normal shampoo). This product is also a soap as well as a shampoo so we use it for her body. We no longer use this product as shampoo for my eldest (see below) but we still use this as body wash. We do use it as shampoo and body wash for my baby (since I already owned this product for my eldest, I didn't buy Earth Mama Angel Baby again, just killing two bird with one stone).
We also use this Shea Moisture 2 in 1 for my oldest daughter's hair. We used the Poofy product when she was younger but as her curls got longer, I realized I needed something that conditioned more. This product fit the bill. It is actually pretty amazing and is "Curly Girl Method" approved. It does NOT foam up as it is more like a co-wash (washing with conditioner). However, if you have a little one with curly hair you can't beat it! It is not as natural as the other products here but it is definitely still a safe option.
Next up BUBBLES! Bath time is meant to be fun right? I wanted to get some bubbles for Noelle that weren't going to be a toxic mess. I ended up finding the Poofy Organic bubbles that I absolutely love. They obviously aren't going to make as big of bubbles as conventional type but they definitely satisfy my little girl.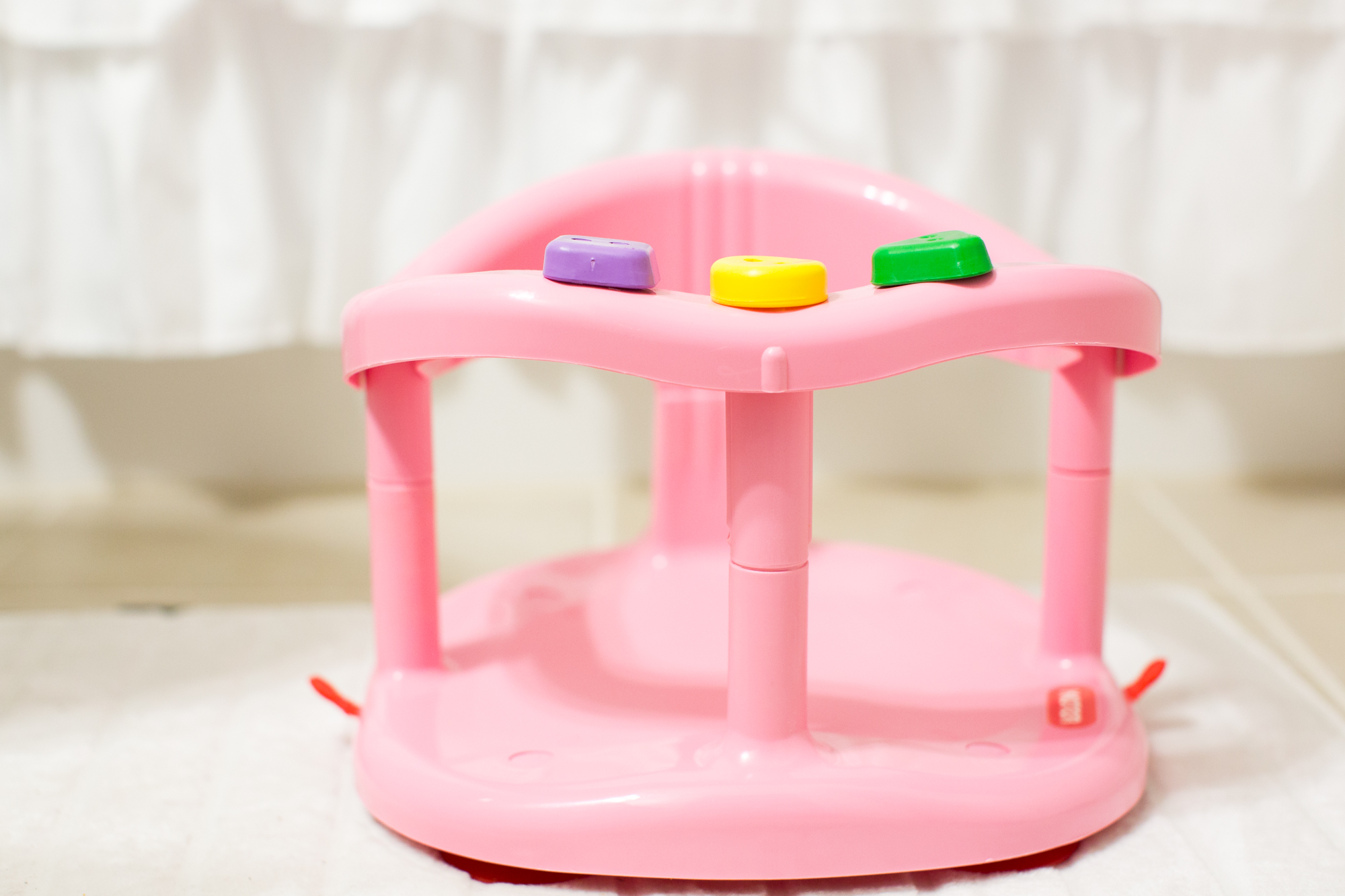 Last but not least, the bath seat. This thing is the best thing EVER! I honestly didn't even know about these until my mom shared it with me. They don't even sell them in stores, I had to order mine on Amazon. They actually don't sell them on Amazon as of the date of this blog post. However, you can buy them from the manufacturer here. They are so helpful and come in multiple different colors. When you baby is just beginning to sit (or is full on sitting), you can put him/her in this seat to take a bath. It suction cups to the bottom of the tub and allows you to have both hands free!  This was so helpful for me because when Noelle was little, she was so wiggly. I was trying to hold her with one hand and then clean her with the other and it was impossible to do. This seat to the rescue!
What is your favorite natural baby bath product? Comment below!
Disclosure: I was not paid to promote any of these products, however the Amazon links to provide me a tiny monetary amount. You don't have to use my links but I appreciate it!